Nara - The Birthplace and Spiritual Heart of Japan
The capital at Nara, beautiful in green earth, flourishes now
like the luster of the flowers in bloom.
Manyoshu poetry volume 3・328
Manyoshu poetry describes Nara as "Like the luster of flowers in bloom". The ancient capital, Nara, boasts a history of 1300 years. It is a land where the visitor can experience the origins of Japan surrounded by World Heritage sites. Nara is filled with ancient buildings and Buddhist statues that are designated as Japanese national treasures and important cultural properties.
Nara is also blessed with rich natural beauty and places that take you back in time, towns where the modern and the past are blended together in exquisite harmony. The entire prefecture is filled with many attractive places that heal the heart of the visitor.
Nara City

Many famous temples and shrines such as Todai-ji Temple, Kofuku-ji Temple and Kasuga Taisha Shrine are scattered throughout Nara Park in the center of the city. The "fragrance" of the Tenpyo culture (8th century AD) is very evident in the Nishinokyo, Saho and Sakiji areas and the shades of the Edo period can still be seen in Nara machi , Yamato Yagyu Village and the surrounding areas. This entire area "breathes" the essence of each era.

Ikoma - Shigi - Ikaruga and Katsuragi

From Ikaruga, filled with ancient temples related to Shotoku Taishi, to Mount Shigi and Ikoma which have long been popular as a focal point for the faith of ordinary people. Together with Katsuragi the stage of an ancient myth and Mount Nijo where the tragedy of Crown Prince Otsu and the legend of Princess Chujo can still be felt, this entire area is filled with the fragrance of ancient Japan.

Yamanobe - Asuka - Kashihara and Uda

Yamanobe is called the oldest road in Japan and the Fujiwara palace was the first capital of Japan based on genuine legal system. Asuka and the surrounding areas are filled with mysterious stone statues making this a popular area eliciting thoughts of an ancient romantic past. Take time to go a little farther and enjoy a stroll through the old town of Uda.

Yoshinoji

Yoshino is the birthplace of a unique mountain religion, Shugendo. The gods of ancient Japan were "blended" with Buddhism from India to create Shugendo. Located in the center of the Omine mountain range, the Yoshinoji area has many scenic vistas where the beauty of nature is on display. There are also many hot springs in this area. The combination of nature and culture make this area a place of healing for the soul.
The Nara image delivery system service used by magazines and home pages
The Yamatoji Stock Photo Library
The Yamatoji Stock Photo Library is Nara's image delivery service making photos related to Nara tourism available. When you need photos that convey Nara's charm for use in magazines, home pages and the like, be sure to make use of this service.

Nara Prefecture is located in the middle of the Kansai region in central Japan.
Nara, with its transportation network, is also convenient to move to nearby cities.
With light footwork, MICE can be held.
Expressways and railways (JR and Kintetsu) are also maintained, and Osaka and Kyoto can be accessed within 60 minutes, and Mie and Wakayama can also be moved within 90 minutes. In addition, it is excellent for access from overseas, with a limousine bus or train from Kansai International Airport for 90 minutes.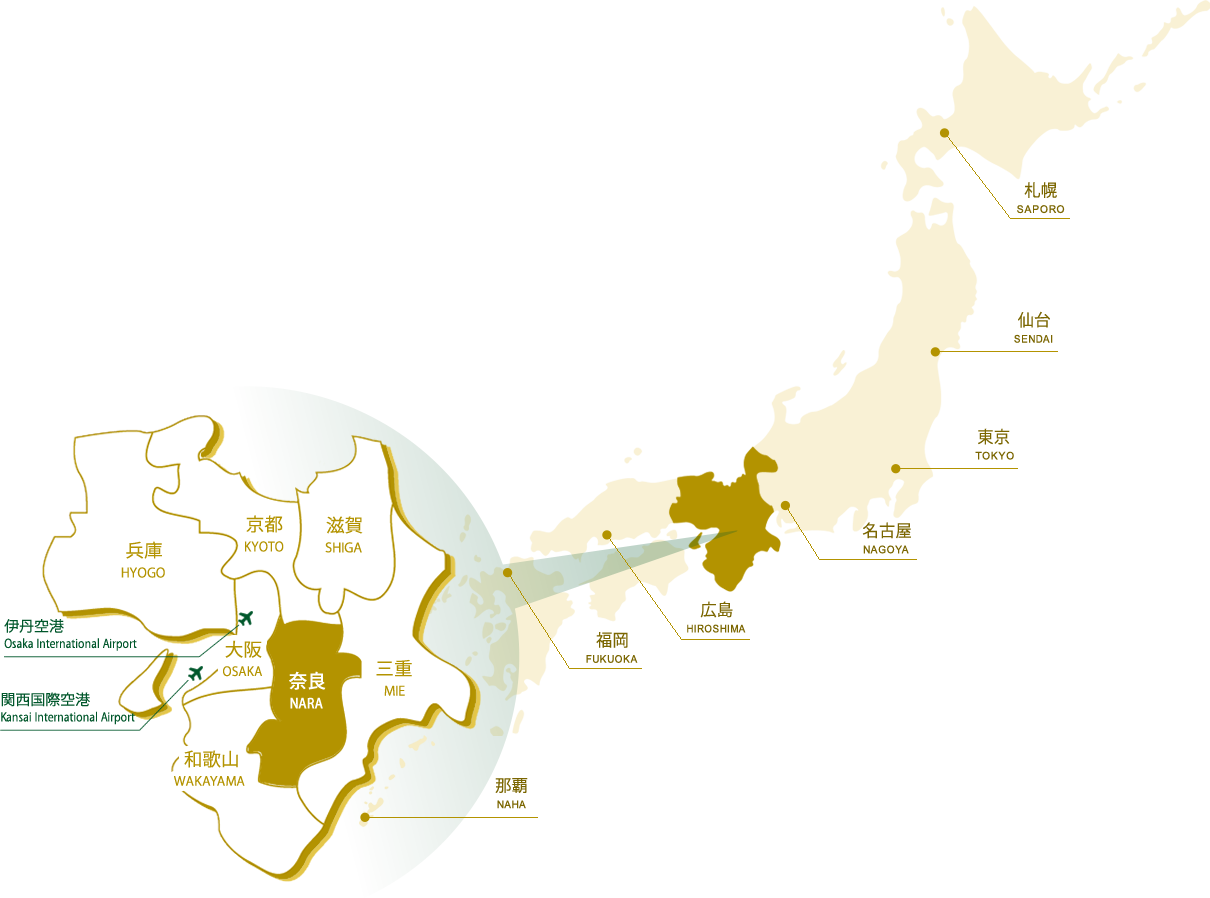 Six reasons to hold your international conventions and MICE in Nara
Point.01
Nara. Japan's Cradle of Wisdom
Nara is known as the birthplace of Japan. Nara Prefecture is where the foundation for the modern nation and the cornerstone of Japan's history and culture were formed. Nara has a history dating back more than 1300 years that is preserved to this day in the treasures of Shosoin, the numerous shrines and temples and traditional arts. It is place where the knowledge of those that went before us and the wisdom of the ancients are still preserved.
The history, culture, faith and nature that nurtured Nara are what gave birth to the broad mindedness that typifies Nara. Throughout each generation Nara has provided intellectual excellence and inspiration to many people and continues to attract people with its charm.
Nara, the "Birthplace of Japan" and "source of ancient wisdom" is a "one-of-a-kind" place breathing life into modern Japan and bringing history alive from the past to the present. As a staging venue for MICE, we seek to make Nara a place with a new history and bright future.
Point.02
A Treasure Trove of World Heritages
Be sure and visit Nara's three World Heritage sites.
Buddhist Monuments in the Horyu-ji area (registered as a World Heritage in 1993)
Historic Monuments of Ancient Nara (registered as a World Heritage in 1998)
Sacred Sites and Pilgrimage Routes in the Kii Mountain Range (registered as a World Heritage in 2004)
Point.03
Excellent Access from Kansai International Airport
The train and highway systems in Nara are well developed making the surrounding cities very accessible.
VISIT NARA
Point.04
Nara, the birthplace of refined sake
Nara is called the birthplace of refined sake. The breaking open of the sake barrel called "kagamibiraki" and sake tasting is a popular attraction at banquets. There are many kinds of Japanese sake so be sure and try some.
Point.05
Compared to metropolitan areas the cost for venues is reasonable
Point.06
Unique venues distinctive to Nara
Some other unique venues readily available in Nara are listed below.
Please feel free to inquire regarding any other facilities not listed here.

Nara Kasugano International Forum IRAKA is located in Nara Park near Todai-ji Temple and the entrance to Wakakusayama Mountain. The Nogaku Hall (Noh Theater) is available for conferences and boasts Japan's largest "Kawara" tiled roof.
IRAKAINFORMATIONNara Kasugano Interna
Nogaku Hall (Noh Theater)

The main hall seats 500 people. When used for conferences it is possible to remove the beams. In keeping with Nara's status as the birth place of Noh (classical Japanese musical drama), the stage is made from cypress wood and built in the Muromachi era style.

Garden

There is a large Japanese garden overlooking Wakakusayama Mountain which is normally open to the public. It is possible to stroll through the garden. It is also possible to rent the entire area for parties.